Gather Food Studio
Regular price
$1,000.00 USD
Regular price
$1,170.00 USD
Sale price
$1,000.00 USD
Unit price
per
Sale
Sold out
2024 India Food Tour Cooking Series
***PLEASE REVIEW THE CANCELLATION POLICY BEFORE BOOKING. THIS CLASS IS NON-REFUNDABLE***⬆️

The series that has been over six years in the making. In almost every class at Gather, someone will ask where the best Indian food in town is. That's about to change. By the time we're finished with this series, the best Indian restaurant in town will be at your house, in your kitchen. Let me break it down and explain…
Depending on what regional map of India you're looking at, India can be broken down in up to 7 regions. For this series, we will be combining a couple of regions together and dividing India up into 4 regions. North & North Central, West & Northwest, Southern, and East & Mountain States. In this series we are going to spend three months on each of these regions and work our way through some of the states and territories within them. Not only are we going to talk and learn about specific regional Indian cuisines, but we are also going to overlay them with the influences that helped to shape them in modern history. From the conquest of the Mughals to Portuguese contact, and finishing with the British Colonization of India (Raj), there is a little something for everyone.
Before I get to far into the details of this series, there are a few things I want to lay out as groundwork. A complete Indian meal usually comes complete with offerings of rice (sometimes in different forms), chutneys, raitas, chaats, achars, breads, and other wonderful sides that are complimentary to your meals and meant to enhance and round out the meal you are eating. All of these classes will include rice, flatbreads, chutneys, achars, etc. that will complement the dishes made in the class.
India is known for its extensive use of spices and spice blends. In each class we will introduce a few new herbs and spices, talk about them, and in a lot of cases make spice blends that are unique to the dish(es) we will be making. There are literally hundreds of different blends that are dish/recipe specific, and we are going to take the time to make some of them.
The word "Curry" with the exception of a few specific dishes that were developed directly for the British, is a no no word. About halfway into the series we will make the original Kari from Tamil Nadu that was Anglicized into Curry and is a blanket term used to represent any and all dishes globally that are saucy. The word "Curry" is a bad generalization and doesn't exist anywhere else in the world outside of the English vernacular. Keep in mind that every dish that we call a curry has its own name.
Since we will not be using the word Curry to describe dishes, I have used other words to describe the dishes we will be making. Some of this can be a little tricky at first, but you'll be a pro at it when the series is over.
As mentioned above, we are splitting India up into 4 regions and then further breaking them down. Below are the regions with a description of the classes that we will be doing in each region over the course of the year. There is also going to be a field trip class to Adams International Market which is scheduled for April. If there is inclement weather on that day, we will look at the schedule and find another Sunday in either May or June that we will use as a make-up day. I am very excited to finally bring this series to the table and I know that you are going to love it! I look forward to seeing you all in class next year!!
North / North Central Regions
Kashmir & Punjab - Saturday, January 27th, 5:00PM-8:30PM
While the cuisines of the Union Territory of Kashmir and the state of Punjab are similar, they definitely have their differences. Kashmiri cuisine is known for its meat dishes – Kashmir is actually the largest consumer of Lamb in India, while Punjabi cuisine is known for its vegetarian dishes and extensive use of dairy. Both cuisines rely heavily on spices and are very highly flavored. These cuisines feature Onion/Tomato based Masalas and Gravys and use a technique called Bhuna, which means cooking until the oil separates.
Kashmiri Cuisine
Rojan Josh – Stewed Lamb in Tomato Gravy with Spices
Chicken Pulao – Chicken, Vegetables, and Spices, Stewed with Broth and Basmati Rice with Doon Chetin (Walnut Chutney)
Punjabi Cuisine
Dal Makhani – Butter Lentil Stew
Salty Lassi – Blended Creamy Yogurt Drink with Black Salt, Cumin, Mint
Panjiri Ladoo –Dessert Ghee Balls with Semolina, Sugar, Nuts, Fruit
Ladakh Territory & Himachal Pradesh – Saturday, February 24th, 5:00PM-8:30PM
The cuisines of Ladakh Territory and Himachal Pradesh are similar in the overall concepts in Northern Indian cookery, but there are also strong influences from Tibet, and being isolated in a high altitude cold desert, farming and agriculture is limited due to weather. Chillies are used for their warming qualities, as are soups, stews, and very hearty dishes. Ingredients like pulses, lentils, rice, potatoes and wheat are welcome for being filling and also for being high in carbohydrates. There is an emphasis on green vegetables too, fresh when available, dried when not. Red meat and other proteins are consumed in abundance, dairy is also widely used.
Ladakh Territory
Skyu – Hand rolled Dough, Pea, and Potato Stew with Spices
Momos –Vegetable Dumplings with Spicy Tomato Chutney
Himachal Pradesh
Rajma Madra – White Kidney Beans in Yogurt Gravy
Chicken Anardana – Marinated Chicken with Dried Pomegranate Seeds and Sour Spicy Gravy
Delhi – Old vs. New Pre/Post 1911 - Saturday, March 30th, 5:00PM-8:30PM
Delhi, which is both a City and the National Capital Territory, has definitely seen its share of ruling bodies who have left their culinary mark on the region. From the Mughals to the Afghans to the Turks, and most recently the British, Delhi has amassed an impressive menu of food where there is something for everybody. Though there were different high courts and ruling bodies in Delhi over the past millennia, street food still reigns supreme as the most popular and sought after, and the Chandi Chowk area of Old Delhi is known for being the food capital of India. During the British Raj, in 1911 the British decided to build New Delhi and move the capital there from Calcutta. The first two recipes from Old Delhi will be more reminiscent of the influences that left their culinary mark on the city and the second two will be from the city of New Delhi (which is about 8 miles away from Old Delhi) and British Inspired.
Old Delhi
Pea and Potato Samosa with Mint Cilantro Chutney
Mughal Chaat – Potato, chickpeas, Fried Papdis with Sour Tamarind and Ginger Chutney
 New Delhi
Butter Chicken - Murgh Makhani vs. Chicken Tikka Masala (What's the difference?)
British era Chicken Ishtu – Fried then stewed Chicken Pieces and Spices in a thin runny broth (Soup. It's just Soup.)
Indian Market Field Trip - Sunday, April 14th, 11:00AM-4:30PM
Join Dave for this amazing class where we explore new and unfamiliar ingredients at Adams International Market in Colorado Springs. This class brings you to the best Indian Grocery in town and introduces you to some unique ingredients that we will be using all year in this series. Meet the owner, Fahad, take a shopping trip, have a nosh and sample some fun Indian treats as we look around then come back to Gather Food Studio and cook four recipes with ingredients that you'll find at this store. This expanded class allows plenty of time to explore and to get inspired. Learn how to walk down the aisles and know your ingredients like a pro! We'll spend 2 hours in the store: the first hour as a walking tour, and the second hour as an ingredient "scavenger hunt" for a few items in each of your recipes - you will also have time to shop for you! This is a hands-on class. This class is taught in our 2x4 format – and when we get back to the studio we'll split up into groups of 2 and each twosome will tackle one recipe.
Kheema /Qeema Aloo Matar – Ground Lamb with Potato and Peas in Coconut Tomato Gravy
Korma/Quoorma – Marinated and Braised Chicken in Thick Cashew Coconut Gravy
Chana Methi Masala (Chole) –Chickpeas and Aromatics in a rich Tomato and Spiced Gravy with Fenugreek Leaves
Gajar Ka Halwa – Sweet Carrot Pudding with Nuts and Ghee
West / Northwest Region
Rajasthan - Saturday, April 27th, 5:00PM-8:30PM
Rajasthan is a state in Northwest India which lies just inland from the coast. Rajasthani Cuisine boasts an array of non-vegetarian dishes. Due to its hot, arid climate and scarcity of water, it lacks an abundance of fruit and green vegetables – but is still able to showcase an impressive selection of vegetarian dishes. Because of climate and limited water, ingredients and dishes in this cuisine are said to withstand multiple days (even weeks!) without refrigeration and can be served without re-heating. This cuisine has evolved to include a reliance on beans, lentils, legumes amongst others. Dairy, specifically ghee, is commomplace, as are meats such as: goat, mutton, lamb, game, and chicken. Beef and Pork are taboo so don't ask. Rajasthani cuisine is full of bold and tangy flavors - with herbs, spices, and chillies producing uniquely vibrant and mouth-watering dishes. Look for the Dhungar cooking technique – where a lit piece of charcoal is placed in a dish and ghee is poured over it to produce a smoke that is covered and trapped in the dish, infusing it with a smoky flavor.
(Jodphur) - Mirchi Vada – Stuffed and Fried Green Chile with Spicy Potato Mixture & Coriander Chutney
Mohan Maas – Stewed Lamb in Thick Gravy with Nuts and Spices

Gatte Ki Sabzi – Gram (Chickpea) Flour Cooked Doughballs in Yogurt Gravy with Spices and Herbs

Badam ka Halwa – Ghee Roasted and Pureed Almonds with Sugar, Cardamon, Wheat Flour, and Milk.
Goa – Before and After Portuguese Contact - Saturday, May 25th, 5:00PM-8:30PM
Goan Cuisine has two distinct profiles: Pre and Post European (Portuguese) contact. Because of its coastal location, there is a prevalence of coconut milk and paste built into this cuisine tied together with many fish and seafood dishes. Teppal (Szechuan Peppercorns) are mixed with coconut and chiles to create a unique flavor base which is central to Goan cuisine and used in many of its dishes. Right around the turn of the 16th century, the Portuguese make first European contact with India and begin to use Goa as a major trading port and Portuguese colony, which results in a unique blend of Indian and Portuguese culinary elements. Pork and Beef are seen in greater frequency in Goan cuisine and also uses vinegar (Vinho de Alho – Vinegar, Wine, Garlic mixture used for preservation) which is the by-product of sausage transport and the base of the ever-popular Vindaloo.
Samarachi Kodi – Large shrimp in a tangy and spicy masala with coconut milk and tamarind.
Khatkhate – Mixed Lentil and Vegetable Stew with Coconut Paste and Kashmiri Chillies
Pork Vindaloo – Pork, Onion, Chiles, Aromatics, Spices and Vinegar

Chicken Xacuti – Hot and Spicy Dish of Chicken with Coconut, Potato, Onion, Poppy Seeds, and Kashmiri Chillies.
Gujarat - Saturday, June 29th, 5:00PM-8:30PM
Gujarat, which is another coastal state in Western India, is a blend of India, East African, and even Chinese cuisines and techniques. Though Gujarati cuisine is regarded as mostly vegetarian, there is an incorporation of seafood, goat, chicken and eggs seen in some of the dishes coming out of this state. On the vegetarian side of this cuisine, there is a focus on rice, lentils, and pickles (achars), and Sabzi (mixed vegetable dishes) to name a few. There are also two cooking techniques seen in this cuisine that are standouts – dry masala "stirfrys" – dishes that do not have a gravy or sauce and usually served as a side dish and a technique known as Baghar or Tadka which is the frying of (blooming of) whole spices or other aromatics in ghee or oil and either poured on top of or stirred into a completed dish right before serving to create a unique layer of flavor or added to a dish during the middle of the cooking process. This cuisine is typically regarded as sweeter than others (whether savory or sweet dishes) because of the use of jaggery (concentrated date or palm sap)
Lamb in Spiced Cashew Gravy
Methi na gota – Fenugreek Pakoras with Green Chilli Chutney
Sabudana Khichdi – Tapioca Pearl and Fried Potato Dish with Roasted Peanut, Coconut, and Chilli
Chora nu Shaak – Black Eyed Peas in Thick Tomato Gravy with Herbs
 Southern Region
Kerala & Tamil Nadu - Saturday, July 27th, 5:00PM-8:30PM
Kerala, which translates to "the Land of Coconuts" sits on the Malabar coast and is the southernmost state on the western coast of India. Since coconut palms are believed to have originated in the state of Kerala, many recipes contain coconut either in grated or liquid form. Not only are coconuts believed to originate in Kerala, Piper Nigrum – the woody vine that produces peppercorn berries is also believed to be native to Kerala, growing wild from the coastal plains all the way up into the Western Ghats.
Tamil Nadu is the southernmost state on the eastern coast of India. Its cuisine features the use of many lentil and legume dishes and leans heavily on the flavors from herbs and spices. The chilli pepper is also central to this cuisine. Within the state of Tamilnadu, lies the Chettinad region which has some of the most heavily spiced and spiciest dishes in all of India. Most notably, in Tamil is where we find Kari "Anglicized Curry." Kari can either refer to black pepper or a spiced sauce.  
Both of these states also share similarities in their cuisines. Rice is of the utmost importance in these states. With the tropical climate and abundant rainfall, the conditions are perfect for rice production. Also, rice provides an excellent source of energy, which comparably isn't found in fruit and seafood. While you will find non-vegetarian dishes, you are more prone to finding vegetarian dishes, vegetables and masala that accompany rice, and different kinds of soup/stew dishes.
Kerala
Vazhuthana Masala - Spicy Eggplant in Coconut Milk
Ularthiyathi – Marinated Beef Fry with Keralan Masala Mix, Curry Leaves, Thin Gravy
Tamil Nadu
Kozhi Uppu kari – Traditional Chicken Kari (and the origins of "Curry")
Varutharacha Sambar –Lentils and Vegetables "Stew" with Tamarind, Spices, and Roasted and Ground Coconut
Andhra Pradesh - Saturday, August 24th, 5:00PM-8:30PM
The State of Andrah Pradesh sits right above Tamil Nadu along the eastern coast of India. This state is considered to be the largest producer of spices, chillies, and rice in India. Here you will find both vegetarian and non-vegetarian dishes – to include a wide array of seafood selections. Deltaic cuisine from the Guntar district will be the hottest in the state due to the use of the Guntar chilli. Spicy, Tangy, and Sweet are the three main food characteristics in this cuisine which also widely features the curry leaf, tamarind, and peanuts. Chutneys and Pickles (achar) are also served along with meals.
Royyala Iguru – Stir Fried Shrimp with Garam Masala, Curry Leaves, and Red Chillies Gravy
Natu Kodi Pulusu – Spicy & Tangy Stewed Country Chicken
Chepala Pulusu – Fish in Tamarind Sauce with Spices
Kadai Paneer – Cottage Cheese with Onions, Tomatoes, Peppers, and Spices in a Tomato based Gravy
Telangana (Hyderabad – Biryani Capital of India) - Saturday, September 28th, 5:00PM-8:30PM
Telangana cuisine is less spicy and slightly more sour than other regional cuisines because of the extensive use of tamarind. Other ingredients used in recipes and dishes are chillies, coconut, sesame seeds, peanuts, and asafetida (a resin extracted from ferula, a plant in the celery family) – which provides an onion garlic flavor that marries beautifully in vegetarian dishes, masalas, gravies, and stews. Most notably however is one of the most popular and well-known dishes in and outside of India… Biryani. Biryani dishes are elaborate layers of spiced meats, vegetables, and basmati rice with other aromatics, herbs, and masala mixtures bringing even more flavors. Biryanis are slow cooked over low heat allowing for all the flavors in the dish to come together to create a mind blowing, tastebud exploding experience unlike any other you've ever had. The city of Hyderabad, which is the capital of Telangana, is known as the Biryani Capital of India!
(Hyderabad) Biryani – Layers of Basmati Rice and Chicken with Whole Spices, Coconut, and Saffron
Mirchi Salan – Roasted Green Chillis with Hot and Sour Gravy of Peanuts, Poppy Seeds, Coconut, Tamarind
Golichina Mamsam – Spicy Simmered Lamb with Herbs and Spices in a Thick Red Gravy
Shahi Tukra – Hyderabadi Fried Bread Pudding with Milk, Sugar, Rosewater, Cardamom, and Saffron
East / NorthEast Region - Saturday, October 26th, 5:00PM-8:30PM
Jharkhand, West Bengal, Bihar & Odisha
The cuisine of Jharkhand is simple, flavorful, and utilizes a lot of local ingredients. None too fancy, dishes here are flavorful but do not contain as much spice as other Indian cuisines. The use of fats and oils is also much less than in other states. Known for both vegetarian and non-vegetarian dishes, with rice and dal being staples.
West Bengali cuisine is famous for its fish dishes.  Flavors in this state favor sweet and spicy, and there is a wide use of spices such as mustard, cumin, coriander, and chilli. Dishes here are often cooked with leafy greens like mustard and also green chiles.
The cuisine of Bihar, or Bihari cuisine, shares similarities to the cuisines of North India. Bihari dishes are both vegetarian and non-vegetarian and there is also a strong use of dairy. Frying is a cooking technique that is used to cook many dishes. Sweet dessert dishes are also widespread in Bihari kitchens.
Odisha Cuisine otherwise known as Odia cuisine is known for being simple and hearty. Like West Bengal, this cuisine is also known for its fish dishes. Ingredients that are commonplace to this cuisine would include tomatoes, curd (yogurt), rice, garlic, and ginger. Spices and herbs such as asafetida and fenugreek are common flavorings. Both mustard oil and Ghee are used as fats in cooking, but in moderation.  
Jharkhand – Lilli Baingan Chokha – Roasted and Mashed Eggplant Stuffed Inside Atta/Gram Flour Balls then and Grilled. Desi Ghee on the side for dipping.
West Bengal – Doi Maach – Marinated Fish in a spicy, savoury, thick yogurt gravy
Bihar – Madatha Khaja – Fried Thinly Rolled Pastry Dipped in Cardamom Sugar Syrup
Odisha – Dalma – Mixed Vegetable and Pigeon Pea Lentil (Toor) Dal with Panch Phoran in Hearty Masala
Calcutta & The British Invasion - Saturday, November 23rd, 5:00PM-8:30PM
(No, not that one. Well, actually, George Harrison did come to Bombay in 1966 to learn how to play sitar from Ravi Shankar. Could you image what Revolver and Sgt. Pepper's LHCB would've sounded like without it? That's not a world I want to live in, but I digress.)
Simply put, these recipes and dishes hail mostly from Calcutta, the former capital of British India which is the now capital of West Bengal. When the Portuguese arrived in the 1500's they brought with them new foods that were largely found in the Americas and introduced them to India. These new ingredients didn't take off as thought and it wasn't until the promotion of these ingredients from the British a lot of them began finding there way into households and recipes. The British also introduced new cooking techniques and preparations all which would change the culinary landscape of India for centuries to come. The combination of new ingredients, and preparation and cooking methods developed the Ango-Indian cuisine; a whole new cuisine that was born during the Raj and was adapted and adjusted to the British palate. A lot of these new dishes were takes on existing classics but by mixing British and Indian foods together new recipes and dishes were developed. By the time the Raj ended in 1947 these new foods and spice blends (like Curry Powder) had already made their way to Britian and had established themselves as a new part of British cuisine. Today, there are around 10,000 Indian restaurants in the UK. London alone has more Indian restaurants (about 3,600) than Delhi and Bombay combined.
Khichdi -> Kedgeree – British Take on Khichdi, Rice with Hard Boiled Eggs, and Poached Fish (a breakfast dish)
Jalfrezi-> Jalfrezi – Fried and Cold Marinated (Chicken) Meat with Tomatoes, Peppers, and Onions in a Thick Gravy
Potato and Mince Cutlet & Cooked Chutney
Railway Mutton Curry – Thin Coconut Based Creamy Lamb Soup with Tamarind or Vinegar. Served with Anglo Bread and Rice
Eastern Mountain States - Saturday, December 28th, 5:00PM-8:30PM
Sikkim cuisine is largely based on rice and vegetables such as bamboo and mushrooms. Nestled between Nepal, Bhutan, and Bangladesh, there are many cultural influences on the cuisine in this state. Dal is also a common ingredient as are fermented foods. Sikkim is the largest producer of Cardamom in India.
Assamese Cuisine is also influenced by surrounding countries and is known for its use of locally sourced ingredients. Rice is a staple and is served alongside fish, meat, and vegetable dishes. Fish in this state are mainly freshwater caught in rivers and lakes. Flavors here tend to be mild and less spicy than in other regions of India, but garlic, ginger, and some chilli peppers are common flavor aromatics. The usage of fermented foods provides a unique sourness to some of the dishes in Assam.
Nagaland, or Naga Cuisine relies on a heavy use of meats, to include: pork, chicken, fish, and wild game. Rice is the main carbohydrate source, and this region produces some prized varieties. Most meals here are cooked at home and there are not many restaurants serving Naga food in Nagaland.
Meghalaya cuisine is a bit different that its seven sister states. Spicy meat preparations are very common as this state raises a lot of cows, pigs, and chickens. Vegetables and dal are also a large part of this cuisine which also heavily favors steamed rice.
Sikkim – Dal Bhaat Tarkari – Lentil and Rice Dal with Seasonal Mixed Vegetables
Assam – Masor Tenga – Slightly Sour and Tangy Gravy with Fried Fish
Nagaland – Thevo Chu – Pork with Bamboo Shoots
Meghalaya - Do O Kalai – Slightly Spiced Stewed Chicken and Black Lentil Dal in Thick Gravy
Share
View full details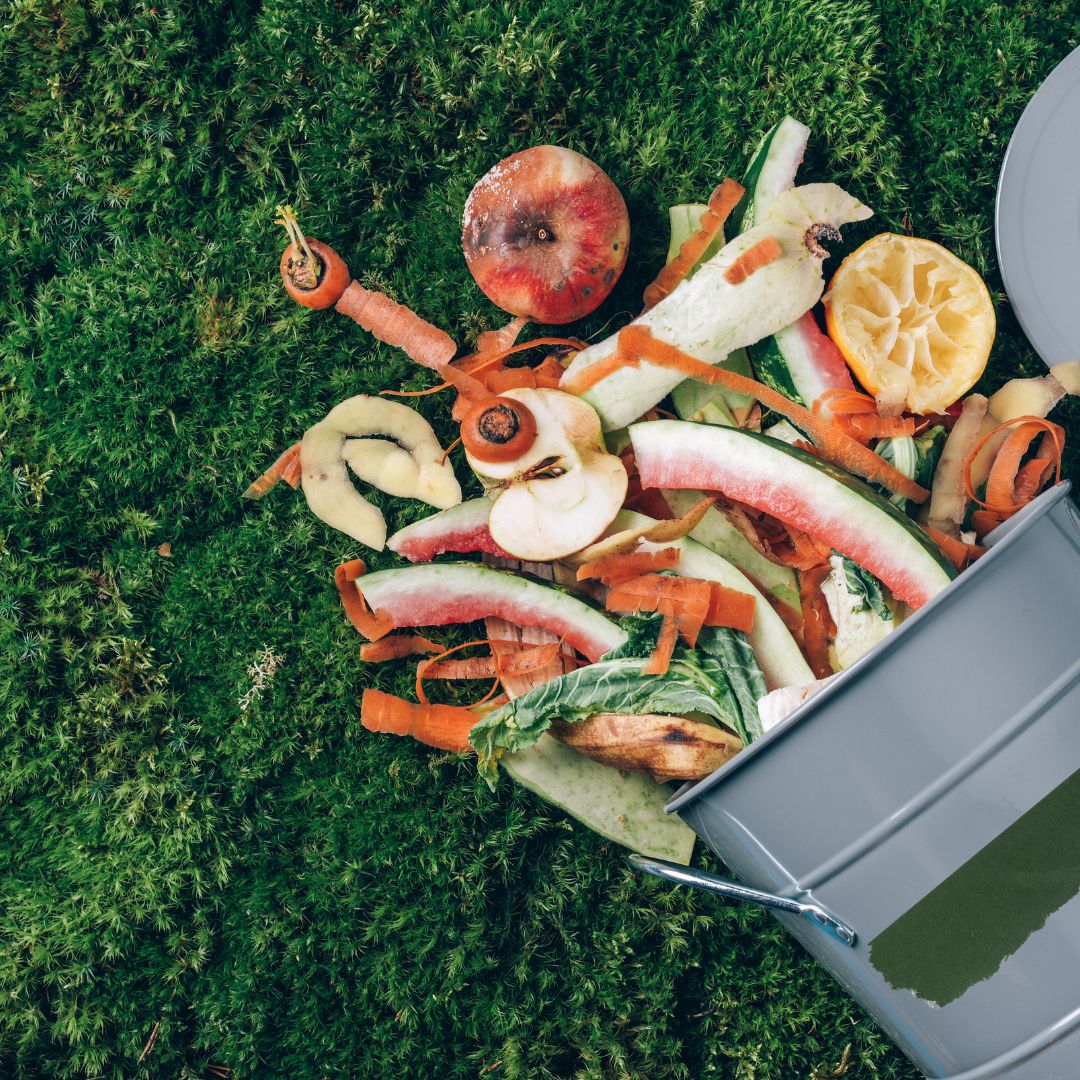 Trash To Table
Don't miss our newest class that gives back! Join this series and the profits will be donated to Food To Power. Learn how to reduce food waste and make better use of food scraps that we would usually throw away!
Learn More